Eucapro Bodywash 500ml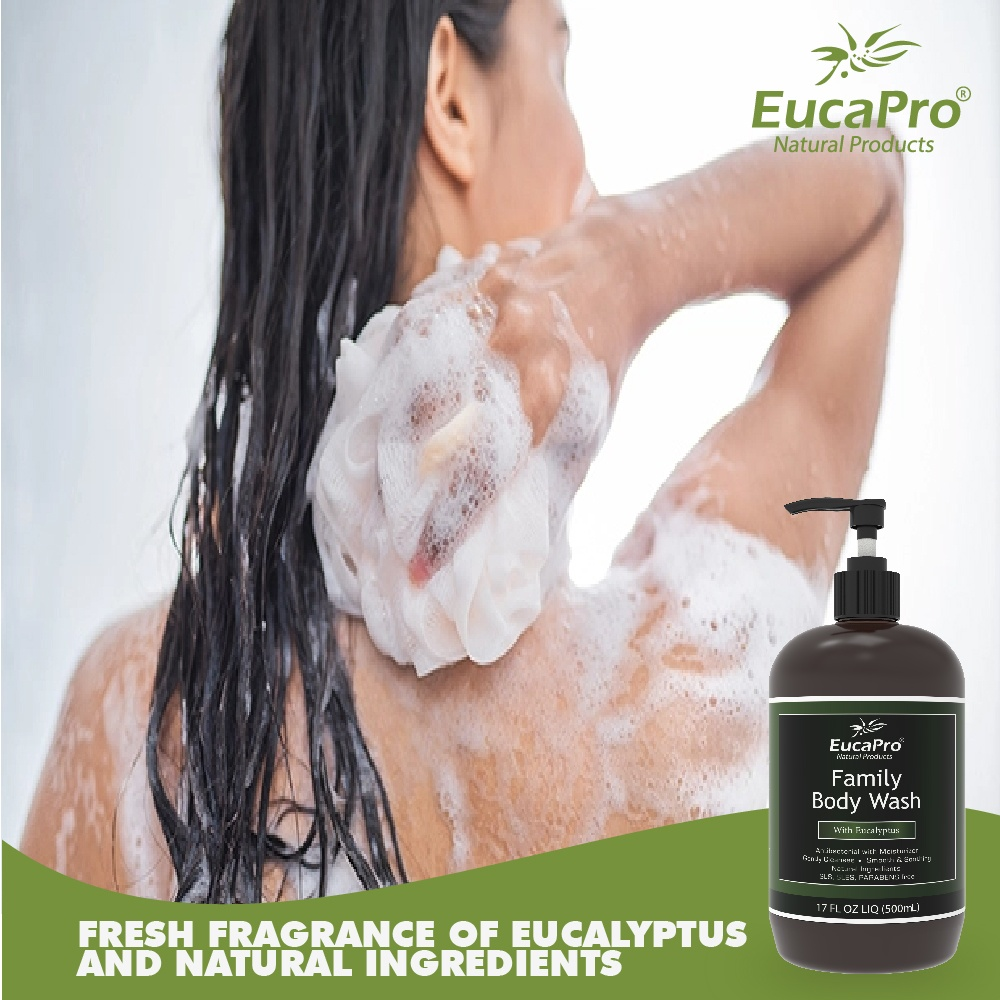 Highlight

Antibacterial with Moisturizer
• Gently Cleanses while maintaining your skin & natural moisture balance and keeping it soft.
• Smooth and soothing
• Natural Ingredients
• Contains no SLS, SLES, Paraben, and Sulphate 
Eucapro Family Body Wash with Angustifolia (Lavender) Oil - An Australian formulation – Specially formulated with natural ingredients to provide a gentle refreshing body wash for the family. This invigorating and cleansing body wash contains natural essentials oil - Lavender oil - calms the body while soothing and relieving tension with deep hydration. Soothe your skin while relieving tension with the powerful effects of Lavender. The hydrating and calming effects will leave your skin quenched and your senses relaxed as you wash away life's stresses. Specially formulated with an effective cleanser to gently clean while maintaining your skin & natural moisture balance, keeping it soft. It's indulging in this easy to rinse luxurious shower cream and experience the long-lasting nature-inspired scent, leaves skin hygienically clean and fresh.
Ingredients:
Aqua, Sodium Lauroyl Sarcosinate, Decyl Glucoside, Glycerin, Cocamide DEA, Aloe Barbadensis Leaf Juice, Cocamidopropyl Betaine, PEG-40 Glyceryl Cocoate, Sodium Cocoyl Apple Amino Acids, PEG-90 Glyceryl Isostearate, Eucalyptus Globulus Oil, Acrylates/C10-30 Alkyl Acrylate Crosspolymer, Coco- Betaine, Olea Europaea (Olive) Husk Oil, Sodium Methyl Cocoyl Taurate, Sodium Chloride, Laureth-2, Sodium Cocoyl Isethionate, Lavandula Angustifolia (Lavender) Oil, D-Limonene, Sodium Benzoate,
Sodium Cocoamphoacetate, Saccharide Isomerate, Lauryl Glucoside, Caprylyl Glycol, Ethylhexyl Cocoate, Sodium Cocoyl Glutamate, Sodium Lauryl Glucose Carboxylate, Olus Oil, Glycolic Acid, Methylchloroisothiazolinone, Methylisothiazolinone

Directions: Pump a small amount onto your hand or sponge and gently lather all over the body with plenty of water. Then rinse thoroughly.
Safety
In case of contact with eyes, rinse with clean water immediately. If irritation occurs, stop use.


For external use only. Keep out of reach of children.
Storage: Avoid direct sunlight. Keep in cool & dry places.
Special  Features
A multi-use spray with the fresh, clean fragrance of the Eucalyptus
The fragrance is fresh and clean and there is no residual odor.
Air purifier and surface sanitizer – an excellent deodorizer. Helps the whole family breathe easy
Long lasting, clean and crisp fragrance of Eucalyptus
Excellent multipurpose cleaner – family room, car, office, and bedroom
An Australian formulation
Stay natural with pure Eucalyptus Oil BP Grade
Does not
Scientifically tested by authorized laboratory testing agency - Kills 99.99% of Germs within 15 Seconds on contact.
Directions for Use                                                                           
Kills Germs & Bacteria
For the toilet, bathroom, and kitchen, Eucapro Eucalyptus Spray is a great natural alternative.
As a surface spray, hold the can 15-20cm from the area. Spray until the area is covered with a fine mist, wipe away if required. Suitable for hard surfaces, sofa, and most fabrics. Also removes unpleasant odors
Room Freshener
For all those areas that require freshening: restroom, bathroom, toilet, cupboards, etc. 
Eucapro Eucalyptus Spray leaves a clean, fresh eucalyptus odor with no residues and kills bacteria that can cause offensive odors. Ideal to clear stale smoke fumes. Spray sparingly to freshen and deodorize the air. Remove or cover fish tanks before spraying.
Household
For mattresses, bedding, pillows, curtains and soft toys. Spray on the pillow for clear night-time breathing.
Office
For telephones, door handles and computer keyboards. Use as an office freshener for a pleasant work environment.
Spot and Stain Remover
Eucapro Eucalyptus Spray is wonderful for getting out stubborn stains and grease marks on carpets, clothes, and fabrics. It is ideal on carpets because spots and stains can be removed without getting the carpet wet.
Simply spray and wipe. The carpet rapidly dries, can be walked on immediately and there is no re-soiling. 
Laundry Pre-Wash
Eucapro Eucalyptus Spray is ideal for taking out grease marks on clothes. Spray soiled areas, leave a minute, then wash in a normal manner.
Gum and Glue Remover
Eucapro Eucalyptus Spray quickly removes chewing gum from shoes, floors, and hair. It is particularly good for taking off adhesive labels without damaging the surface. It is a painless method for removing sticking plaster from the skin.
Car Interiors
Purify, deodorize and freshen the car interior. Spray approx. 20 seconds in the car around front and back seats. Also suitable for upholstery. 
Can be used on windows and mirrors to clean finger marks.
Tar Marks on Cars
Eucapro Eucalyptus Spray will remove tar from the paintwork of motor vehicles.
Just spray and wipe clean.
Pet Areas
Eucapro Eucalyptus Spray is very effective for freshening and deodorizing pet areas and to remove unpleasant odors.
---
We Also Recommend