Marimer Saline Nasal Hygiene
MARIMER DAILY NASAL HYGIENE is a seawater solution naturally high in mineral salts and marine dietary elements. The formula helps to decrease symptoms of allergy, and facilitates the gently evacuation of nasal secretions that can sometimes make life miserable.
WHY USE MARIMER DAILY NASAL HYGIENE?
- For a daily nasal hygiene,
- It moisturizes the nasal mucous,
- It facilitates the evacuation of nasal secretions,
- It is recommended in cases of allergic rhinitis**.
HOW TO USE THIS PRODUCT
1 to 2 sprays per nostril, 1 to 3 times a day as needed.
May be used daily over a prolonged period. Read the directions carefully before use. Ask your pharmacist for advice.
This medical product comes with a pocket valve system and propellant gas, and is environmentally friendly (no external contamination)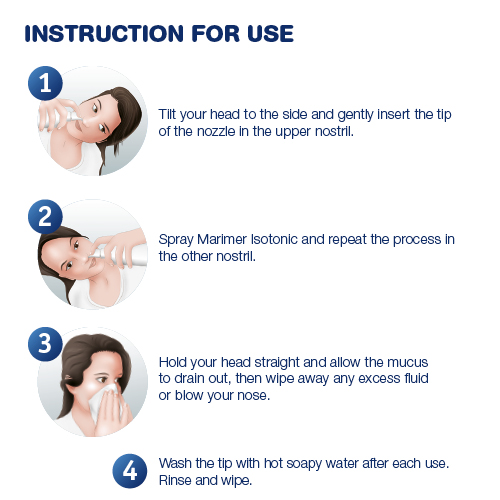 ISOTONIC VERSUS HYPERTONIC
Our body's cells have a natural salt concentration of 0.9%. An isotonic solution will have the same concentration. A hypertonic solution has a salt concentration higher than that of our cells (2.2% for MARIMER® solution). Applying it will have an osmotic effect. Evidence shows that cells will liberate water and more easily discharge mucus which has accumulated on the surface of the nasal mucosa. Hence, hypertonic solution is only prescribed for a blocked nose, whilst isotonic solution may be used daily for preventive nasal hygiene.
---
We Also Recommend